Tree Surgeons in Brentford
Expert tree services for residential and commercial purposes in Brentford and TW8
Looking to hire a professional Tree Surgeon in Brentford? GraftinGardeners have expert tree surgeons in TW8, London and surrounding areas. We have extensive experience in performing tree surgery and will usually have the works complete the same day.
Tree Surgery Services and Quotes in Brentford
Call us today for a free quote: 0208 123 7653
Our Tree Services Include:
Tree Surgery in Brentford
GraftinGardeners are the most trusted tree surgeons in Brentford and surrounding areas. Our teams have been performing tree surgery for over 7 years and have the experience to keep any customer happy. Our main services include tree felling, removal, pruning and stump removal. Were fully insured and can usually give you a quote the same week. If you require tree surgery in TW8, contact us today. Our team delivers a comprehensive tree surgery service for affordable prices.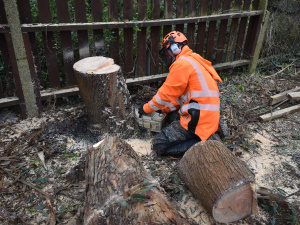 Tree felling is one of the most dangerous jobs a tree surgeon can perform and should never be attempted by amateurs. Our tree fellers have been performing tree felling for a long time and know exactly what it takes to remove a tree safely and within a reasonable time frame. We will come in a fell the tree and take all the mess away with us in our trucks.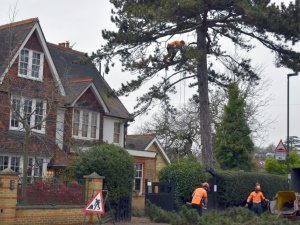 Anyone can cut a tree branch but it takes skill and experience to get that well-balanced, good looking shape. Our tree pruners can remove any large limbs or branches to help you achieve more light whilst leaving your trees in a healthy condition. Our arborists can cut, trim, prune and shape any tree. Call us in now and let the professionals prune your trees.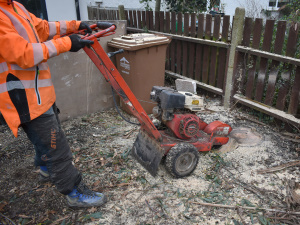 Is a tree stump getting in your way? Why not let us remove it for you? Our tree surgeons have removed countless tree stumps for customers all over London. We use special stump grinding equipment to remove any unwanted stumps and then fill the resulting hole with a composition of your choosing.
Need a fallen tree removed now? No sweat! If you're having a crisis with fallen trees and you need them cleared fast, give us a call now. We will send round a team to secure the area and remove any hazards in the way. Our emergency tree service is there 24 hours a day for fallen tree mishaps.
Ivy has damaging properties that can cause damage to brickwork, woodwork and roof tiles ect. If you're having problems with Ivy call us right away. We have teams on standby by ready to complete any ivy removal takes throw at them. We will remove the ivy from the source so it doesn't come back any time soon.
Need a tree planted in your back garden but don't have the time to do it? Let us come in and plant it for you. We are experts at tree planting and cultivation and can help you every step of the way. From sourcing the best specimens to solid advice on plant locations and tree aftercare, we have it all under one service.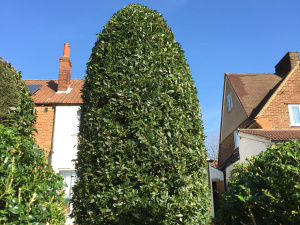 Want your hedges trimmed and ready for the summer? Our hedge trimmers are experts at crafting all types of shapes and styles and can do just about anything with hedges. Our arborists work fast and efficient so you can get that hedge you deserve and all before tea time.
Need a tree pollarded? Our tree surgeons can carry out pollarding operations with precision and care. We will remove all limbs and branches so you are just left with a tree frame (main trunk). Contact us for a free quote.
Where Quality & Customer Satisfaction Come First
See What Previous Clients Have to Say About Us
Excellent! Great service and fairly priced. Everyone involved was friendly and efficient from the office staff to the engineers. Highly recommended!
Very happy to recommend these guys. They cut our tree back 5 years ago and I had no hesitation digging out the invoice and calling them again.
Great professional team. They came to reduce a pear tree in the garden and did a very good job. They knew what to cut or not cut for the tree to recover from the trauma of the reduction.
From Felling to Pruning & Stump Removal, Our Brentford Team Can Help!
Fill out the form below, or call 0208 123 7653 to get in touch with us.
Why Choose GraftinGardeners?