Tree Surgeons in Kingston upon Thames
Expert tree services for residential and commercial purposes in Kingston upon Thames, KT1 and KT2
Looking to hire a professional Tree Surgeon in Kingston upon Thames? GraftinGardeners have expert tree surgeons in KT1/KT2, Surrey and surrounding areas.
Tree Surgery Services and Quotes in Kingston upon Thames
Call us today for a free quote: 0208 123 7653
Our Tree Services Include:
Tree Surgery in Kingston upon Thames
GraftinGardeners have two teams of professional tree surgeons operating in Kingston upon Thames and surrounding areas. We provide clients with cost effective tree surgery services and always aim for 100% customer satisfaction. If you require tree surgery in KT1, KT2 or Surrey, call us today on 0208 123 7653. We can give you a free quote on all your tree surgery requirements.
Tree Felling in Kingston upon Thames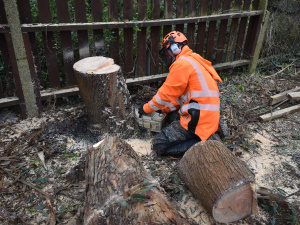 Need a potentially dangerous tree removed or felled? Our tree surgeons are experts and can fell trees of all sizes with pin-point accuracy. After your tree's been felled, it will be removed safely and efficiently with minimal disruption. We always work to UK safety guidelines, rest assured, your property is in safe hands with GraftinGardeners.
Tree Pruning in Kingston upon Thames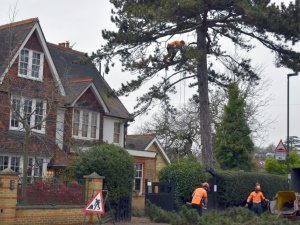 Before any pruning operations are carried out we will asses each tree individually. Shape, size and age are considerations. Our tree surgeons have years of experience performing tree surgery, we have extensive knowledge and will keep your trees maintained to a high standard.
Tree Stump Removal in Kingston upon Thames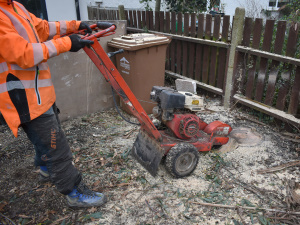 Want a tree stump removed from your garden? No worries! Our team will come in and grind it out for you. We use powerful stump grinding equipment that can smash through any stump. We can remove any stump regardless of size and location. Give us a call and we could be round to remove that annoying tree stump.
Emergency Tree Work in Kingston upon Thames
High winds and bad weather cause trees to fall and in turn cause damaged to your property. If you have fallen tree on your property, don't panic, we can help. Our emergency tree service runs 24 hours a day 365 days a year. We can send a team out to remove any fallen trees and make the surrounding area safe once again.
Ivy Removal in Kingston upon Thames
GraftinGardeners provides a comprehensive ivy management service to deal with pesky ivy and other climber species. We will remove overgrown ivy from its source so it doesn't return. If you want to keep your ivy, we can prune and shape ivy to your specifications untill you get the effect you want.
Tree Planting in Kingston upon Thames
If you have a new tree to plant we can help. Our arborists have unrivalled knowledge of tree cultivation and can assist you in every way. We always source the best specimens and give you expert advice on tree aftercare.
Hedge Trimming in Kingston upon Thames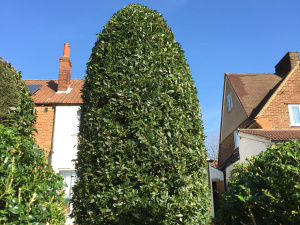 Hedge trimming takes time to perfect. Haven't got time to do it yourself? Why not let our expert hedge trimmers come in to do it for you? Our tree surgeons can trim and shape any hedges, from small hedgerows to largest conifers. Our boys can work by your instructions until you get the desired result you want.
Tree Pollarding in Kingston upon Thames
Pollarding should only be performed on certain tree species. Pollarding a tree is sometimes the only way to keep trees under control. If you're unsure what pruning your trees require, gives us a call. Our expert tree surgeons can tell you exactly what type of pruning your trees require.
Tree Surveys in Kingston upon Thames
Tree surveys are needed for legal reasons and it's the landowner's duty of care to ensure that a survey is performed every 36 months for any trees and shrubs on their premises. There are numerous reasons behind having your trees surveyed which include development and planning applications (BS 5837 Reports), hazard risk assessments and wildlife habitat protection. Our expert tree surveyors supply a full-range of surveying services for whichever your needs. Give us a call right now to get a cost-free estimate.
If you're thinking about having works done to your trees or hedges in your garden you may wish to read the resource on Trees and Hedges in Kingston.
Where Quality & Customer Satisfaction Come First
See What Previous Clients Have to Say About Us
Excellent! Great service and fairly priced. Everyone involved was friendly and efficient from the office staff to the engineers. Highly recommended!
Very happy to recommend these guys. They cut our tree back 5 years ago and I had no hesitation digging out the invoice and calling them again.
Great professional team. They came to reduce a pear tree in the garden and did a very good job. They knew what to cut or not cut for the tree to recover from the trauma of the reduction.
From Felling to Pruning & Stump Removal, We Can Help!
Fill out the form below, or call 0208 123 7653 to get in touch with us.
Why Choose GraftinGardeners?