Expert tree services for residential and commercial purposes in Merton and SM4, SW19 and SW20
Tree Surgery Services and Quotes in Merton
Call us today for a free quote: 0208 123 7653
Our Tree Services Include:
GraftinGardeners have a team of professional tree surgeons covering Merton and surrounding areas. We carry out every type of tree work possible; our tree surgery services include: tree felling, tree pruning and stump removal. If you require tree surgery in SM4, tree surgery in SW19, tree surgery in SW20, our team can certainly help; we can come round and give you a free quote at your earliest convenience.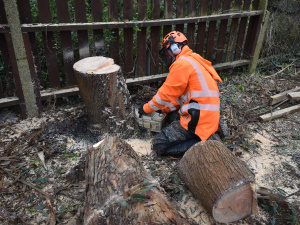 Dangerous and awkwardly situated trees are a hazard to your health and safety. Our tree surgeons are highly skilled at felling trees, we fell trees all the time and know what it takes to remove large and dangerous trees safely and in accordance the law.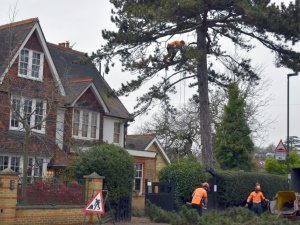 Tree pruning is required to maintain trees and keep them healthy; it's necessary for the growth of younger trees and needed to maintain older trees. Our expert arborists can prune trees safely, leaving them with a good overall shape and balance for a longer life.
Tree Stump Removal in Merton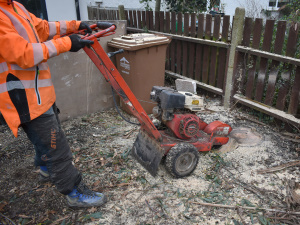 Sick of looking at that tree stump in your garden? You don't have to anymore! GraftinGardeners will come round and remove the stump for you. Our high tech stump grinding equipment will remove tree stumps with ease. When were done, we'll fill the hole with soil and make the surrounding area tidy.
Emergency Tree Work in Merton
High winds and storms cause lots of damage to your trees and sometimes topple them over. GraftinGardeners are on call 24 hours a day to deal with these emergencies. If you're having problems with a fallen trees and need a quick removal service, contact us now and we can come round to inspect the damage and give you a quotation.
Ivy can compromise your properties structure if left to grow on its own accord. We will cut ivy from the roots to ensure the ivy is removed once and for all. If you wish to keep your ivy, we can prune and shape it to your requests until we achieve the desired end result.
The GraftinGardeners team can plant any size tree in any location. We can help you to source the best possible specimens and give advice on optimal plant locations and also give you advice on tree aftercare.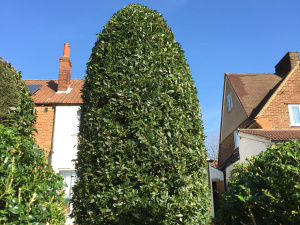 Want your hedges trimmed to a professional standard? Our hedge trimmers can trim just about anything, from small hedgerows to large conifers and more. We will work with you every step of the way to ensure you get the desired end result you want.
Tree Pollarding in Merton
Pollarding is an extreme form of pruning; it should only be carried on certain tree species such as willows and poplar. We will assess your trees by their species and offer sensible advice as to what type of pruning your trees need in order to maximise the life of the tree.
Tree surveys are required by law and it is the landowner's duty of care to see that a survey is carried out every 36 months for all trees on their property. There are many reasons behind getting your trees surveyed which include building and planning applications (BS 5837 Reports), hazard risk assessments and wildlife habitat protection. Our expert tree surveyors provide a full range of surveying services for whatever your requirements. Give us a call today for a free estimate.
Where Quality & Customer Satisfaction Come First
See What Previous Clients Have to Say About Us
Excellent! Great service and fairly priced. Everyone involved was friendly and efficient from the office staff to the engineers. Highly recommended!
Very happy to recommend these guys. They cut our tree back 5 years ago and I had no hesitation digging out the invoice and calling them again.
Great professional team. They came to reduce a pear tree in the garden and did a very good job. They knew what to cut or not cut for the tree to recover from the trauma of the reduction.
From Felling to Pruning & Stump Removal, We Can Help!
Fill out the form below, or call 0208 123 7653 to get in touch with us.
Why Choose GraftinGardeners?