Tree Surgeons in Raynes Park
Expert tree services for residential and commercial purposes in Raynes Park and SW20
Looking to hire a professional Tree Surgeon in Raynes Park? GraftinGardeners have expert tree surgeons in SW20, London and surrounding areas. Our teams handle all aspects of tree surgery and carry out all tree work to the highest standards.
Tree Surgery Services and Quotes in Raynes Park
Call us today for a free quote: 0208 123 7653
Our Tree Services Include:
Tree Surgery in Raynes Park
GraftinGardeners are expert tree surgeons operating in Raynes Park and surrounding areas. We carry out tree surgery works for customers on a daily basis and have a good reputation for providing the best tree surgery services. If you require tree surgery in SW20, contact us today, we're always happy to help.
Tree Felling in Raynes Park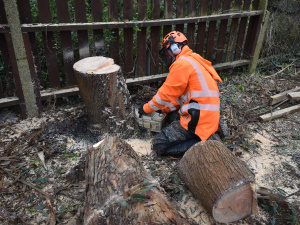 Want help felling a dangerous tree on your property? Our professional tree surgeons can fell any size tree wherever it's situated. Our team have felled hundreds of dangerous and awkwardly situated trees and always carry out work to UK safety guidelines.
Tree Pruning in Raynes Park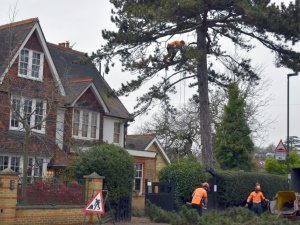 Don't attempt to prune trees yourself; it can be costly to both you and the tree health when thing go wrong. Always hire an expert who has the expertise to perform pruning operations. We have a highly skilled team of tree surgeons who can perform tree pruning operations safely while ensuring your trees remain healthy.
Tree Stump Removal in Raynes Park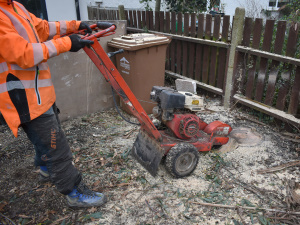 Need to remove an awkwardly situated tree stump? No sweat! We can smash out stumps with our powerful stump grinder or hand tools. Once the stump has been removed, we'll fill the hole with soil and bring the ground back to a level surface.
Emergency Tree Work in Raynes Park
Storm damaged trees can cause severe damage to your property and are a big threat to the health and safety. GraftinGardeners emergency tree service is available 24 hours a day for emergency situations. We will assess the damage (if any), remove the fallen trees and make the area safe once again.
Ivy Removal in Raynes Park
Ivy will cause damage to your property if it's not maintained. It can cause all sorts of problems to your structure including damage to brickwork, woodwork and roof tiles. We will quickly remove problematic ivy so you don't get left with a big property maintenance bill. Our ivy management service deals with all forms of pesky climbers that are causing you problems.
Tree Planting in Raynes Park
Why not let us help you plant that tree you wanted in your garden. Our arborists are friendly and above all professional! We can guide you with all your tree planting requirements whatever they may be. Call us now to find out more.
Hedge Trimming in Raynes Park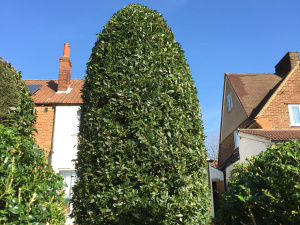 Looking for a high quality hedge trimming service? Our team are highly skilled at hedge trimming and maintain hedges for a number of clients in London. We can trim any hedge, from small box hedges to large conifers. We will work to your specific instructions until you get the results you desire.
Tree Pollarding in Raynes Park
Pollarding is an extreme form of pruning and should be used sparingly. It can have irreversible effects when performed on the wrong tree species. If you would like to find out what type of pruning your trees need, simply give us a call, were always happy to help.
Where Quality & Customer Satisfaction Come First
See What Previous Clients Have to Say About Us
Excellent! Great service and fairly priced. Everyone involved was friendly and efficient from the office staff to the engineers. Highly recommended!
Very happy to recommend these guys. They cut our tree back 5 years ago and I had no hesitation digging out the invoice and calling them again.
Great professional team. They came to reduce a pear tree in the garden and did a very good job. They knew what to cut or not cut for the tree to recover from the trauma of the reduction.
From Felling to Pruning & Stump Removal, We Can Help!
Fill out the form below, or call 0208 123 7653 to get in touch with us.
Why Choose GraftinGardeners?