Tree Surgeons in Chiswick
Expert tree services for residential and commercial purposes in Chiswick and W4
Want to hire a skilled Tree Surgeon in Chiswick? GraftinGardeners have expert tree surgeons in W4, London and surrounding areas.
Tree Surgery Services and Quotes in Chiswick
Call us today for a free quote: 0208 123 7653
Our Tree Services Include:
GraftinGardeners have a team of highly skilled tree surgeons (arborists) operating in Chiswick and surrounding areas. Were a limited company but that doesn't mean our services are. We handle all aspects of tree surgery and provide a wide range of tree surgery services. If you require tree surgery in W4, we can help. Simply fill in the tree surgery quote form and we will reply within 12 hours.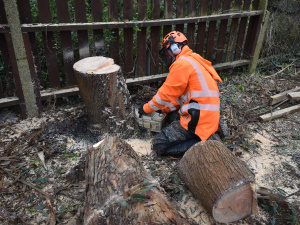 Tree felling is a dangerous task and should only be performed by professionals with the correct experience and knowledge. Our tree surgeons have felled hundreds of dangerous and awkwardly situated trees and can assist you with the removal of your trees. We put health and safety first; all trees are felled in accordance to UK safety guidelines.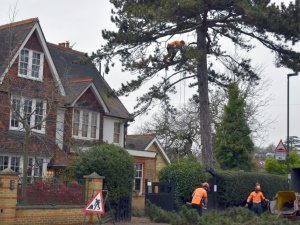 GraftinGardeners can carry out all forms of tree pruning, from crown reductions all the way to pollarding and anything in-between. Our expert tree surgeons will prune your trees safely while ensuring a good overall shape by sticking to the guidelines set out in the BS 3998.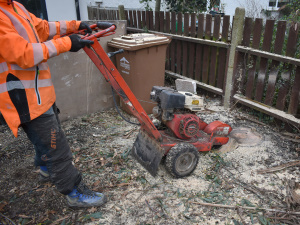 Sick of mowing round that pesky tree stump? We will come in and remove it for you! We have the best stump grinding equipment that will easily smash out any tree stump. We can then fill the leftover hole with fresh soil or stump chipping (whichever you prefer) while ensuring the ground is clean and most importantly level.
Dangerous and fallen trees cause major damage to your property. We can never tell when a tree is going to fall unless the trees are maintained properly. If you're having a tree crisis don't panic, GraftinGardeners are on call 24 hours a day for emergency situations. We can remove fallen trees with speed and efficiency and remove all hazards in the process.
Ivy can add to the value of your property and give it a unique look and feel when maintained correctly. It can also be a nightmare when left to grow on its own accord. Rendering can crack; brickwork can be compromised, roof tiles can lift up and in some cases cause flooding! We remove ivy from the roots to get to the root of the problem. If you need ivy management services, please call us for a no obligation quote.
Planning on planting a large tree but can't due to its size? GraftinGardeners have the manpower to plant any size tree in any location. We can also guide you with tree aftercare and a number of other tree planting services. Call now for a free quote.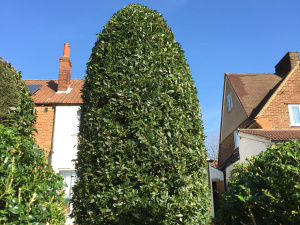 Hedge trimming is a delicate operation and should only be carried out by a professional. Don't risk running your hedges by hiring unskilled workers, let a professional hedge trimmer handle it! Our hedge trimmers can skilfully shape and cut any hedge while working to your specific instructions.
Tree pollarding is only used for certain tree species namely willow and poplar. If you pollard the wrong species you risk killing the tree. Our expert tree surgeons can tell you exactly what form of pruning your trees require.
Where Quality & Customer Satisfaction Come First
See What Previous Clients Have to Say About Us
Excellent! Great service and fairly priced. Everyone involved was friendly and efficient from the office staff to the engineers. Highly recommended!
Very happy to recommend these guys. They cut our tree back 5 years ago and I had no hesitation digging out the invoice and calling them again.
Great professional team. They came to reduce a pear tree in the garden and did a very good job. They knew what to cut or not cut for the tree to recover from the trauma of the reduction.
From Felling to Pruning & Stump Removal, Our Chiswick Team Can Help!
Fill out the form below, or call 0208 123 7653 to get in touch with us.
Why Choose GraftinGardeners?