Tree Surgeons in Claygate
Expert tree services for residential and commercial purposes in Claygate and KT10
Do you need to hire a Tree Surgeon in Claygate? GraftinGardeners have worked in the tree care industry for many years and have unrivalled experience in arboriculture. Our teams consist of arborists, groundsmen and climbers and can perform any type of tree work you require. We have high standards of work and provide a wide array of tree surgery services. We have tree surgeons in KT10, and all surrounding areas in London and are available 6 days a week for non-emergencies. Get in touch with us today to have a tree specialist inspect your trees.
Tree Surgery Services and Quotes in Claygate
Call us today for a free quote: 0208 123 7653
Our Tree Services Include:
GraftinGardeners are your trusted and local tree surgeons in Claygate and surrounding areas. We are a family run tree company and accommodate for all types of tree work. Every team member is qualified and trained to the highest levels, so you can always expect first class results for whatever tree services you need. If you require tree surgery in KT10, please call us on the number listed above and we will send one of our specialists to insect your trees, free of charge.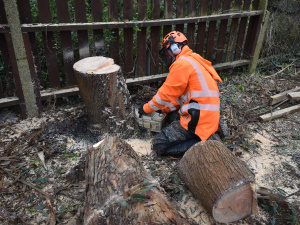 Felling a tree is risky and should always be carried out with care and precision, by a professional tree surgeon. If performed incorrectly it could cause damage to your property and leave you with a huge repair bill, costing you thousands of pounds! It is essential to know what cuts to make and what direction you want it to fall in. Our tree surgeons have felled hundreds of damaged and unwanted trees and will take your down in a safe and controlled manner. We follow all UK safety laws, ensuring every fell is safe and without damaging the surrounding area.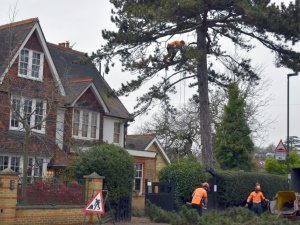 DIY tree pruning should be avoided where necessary as it can cause more harm than good if cuts are performed incorrectly. We always advise you to seek the advice of a professional first as there are many factors to consider when determining the best methods of pruning for your species. Age, size condition and character are just a few factors our tree surgeons use to workout suitable pruning methods. Our company has unrivalled experience when it comes to tree care and maintenance and always cut, trim and shape trees to the highest possible standards, while working to the guidelines in the (BS 3998).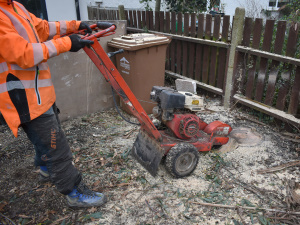 Removing an unwanted tree stump can be hard work if you don't have the correct tools for the job. Our tree surgeons are fully trained and well equipped to carry out tree stump removal operations and could have yours taken out within the hour. We use specialist stump grinding equipment to tackle even the largest of stumps and always get the job done properly. After grinding is complete, the resulting hole can be filled so you can start planning what to do with your new found space.
Storms can bring the largest trees down and when they do it usually causes tremendous amounts of damage to your property and surroundings. It is advised to regularly maintain your trees, so you know beforehand if any trees require removing. If you need a fallen tree cleared from your property we can help. Our emergency tree service is there for when you're having a tree crisis and runs 24 hours a day, 365 days a year, for all tree emergencies. We could have thing back to normal in no time.
Ivy can cause vast amounts of damage to your properties structure if it's left to its own device. You need to train ivy otherwise it can cause damage to brickwork, brick joints, guttering and woodwork. Our arborists can train ivy to grow away from important structures by trimming and shaping it. That's all part of our ivy and climber maintenance service. If you just want it removed we can do that to. We remove it from the roots and lay herbicides down to stop it from growing back.
Do you want to plant a new tree in your garden but don't have the manpower to do it yourself? We have a team of dedicated arborists with excellent knowledge on tree cultivation and management, ready to plant or relocate any trees you have. Our team will not only source you specimens buy also plant the tree in the best location for your site (or wherever you want it), and can give you solid advice on tree aftercare as well.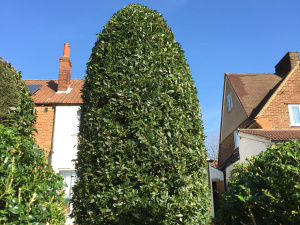 GraftinGardeners have skilled arborists and cut, trim and shape all types of hedges. Whether you need your hedge rows tidying, your conifers trimmed or your shrubberies neatened, we can handle it. We can create different styles or shape it according to your taste. Whatever trimmings services you need our company can provide them. Call now and get a free quote for all your shrubs.
A pollarded tree will generally live longer than an un-pollarded one. It is considered a heavy form of pruning but actually helps to promote new growth and denser foliage. It is carried out on willow and poplar tree regularly and is a great way to control its growth. If you want to know more about pruning or you would like some to inspect your trees, give us a ring. We can send a tree surgeon to visit you and they will advise you on suitable pruning methods for your trees.
Where Quality & Customer Satisfaction Come First
See What Previous Clients Have to Say About Us
Excellent! Great service and fairly priced. Everyone involved was friendly and efficient from the office staff to the engineers. Highly recommended!
Very happy to recommend these guys. They cut our tree back 5 years ago and I had no hesitation digging out the invoice and calling them again.
Great professional team. They came to reduce a pear tree in the garden and did a very good job. They knew what to cut or not cut for the tree to recover from the trauma of the reduction.
From Felling to Pruning & Stump Removal, Our Claygate Team Can Help!
Fill out the form below, or call 0208 123 7653 to get in touch with us.
Why Choose GraftinGardeners?