Tree Surgeons in Colliers Wood
Expert tree services for residential and commercial purposes in Colliers Wood and SW19
Looking for a professional Tree Surgeon in Colliers Wood? GraftinGardeners have expert tree surgeons in SW19, London and surrounding areas. Our teams handle all aspects of tree surgery and carry out all works to the highest possible standards.
Tree Surgery Services and Quotes in Colliers Wood
Call us today for a free quote: 0208 123 7653
Our Tree Services Include:
Tree Surgery in Colliers Wood
GraftinGardeners have three teams of highly skilled tree surgeons operating in Colliers Wood and surrounding areas. We carry out all types of tree works; our main tree surgery services include tree felling, tree pruning and stump removal. If you require tree surgery in SW19, simply give us a call and we can go from there.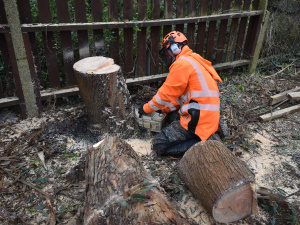 Dangerous, unsightly and awkwardly situated trees can be a pain in the back side. Our arborists are experts at felling trees, we fell dangerous trees on a daily basis and know exactly what it takes to bring down large trees safely and most of all efficiently.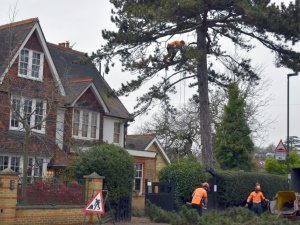 Tree pruning is required for all kinds of tree species; it's an essential part of growth for younger trees and a good way to manage older trees. Our fully qualified tree surgeons can prune trees safely while maintaining a well balanced and good overall shape of the tree.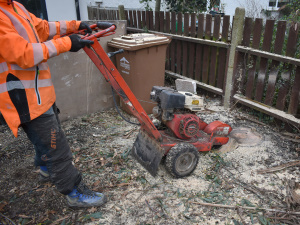 Sick and tired of looking at that unsightly tree stump? Well you don't have to! Let GraftinGardeners come in and remove the stump. We have high tech grinding equipment to remove old tree stumps and get to the root of the problem. You don't even have to worry about the mess; we'll fill the remaining hole and make the surrounding area spotless.
Strom damaged trees cause all sorts of problems, they can damage your home, property, vehicles and other trees. GraftinGardeners are on call 24 hours a day to deal emergencies. If you're having trouble with a fallen tree and need it removed quickly, contact us right away, we can be round within the hour.
If ivy is causing problems to your property structure, give us a call. We have friendly arborists with extensive experience in the management of ivy and other climber species. We can do just about anything with ivy, from removing it entirely to shaping and cutting it to your exact specifications.
Want to plant a tree but don't know where to start? Let us help you make the best decision of your life. Are arborists are experts at planting trees and can guide you through the whole process, from sourcing the best possible specimens to better tree placement with no jargon advice on tree aftercare.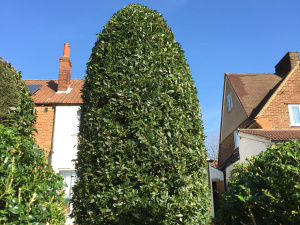 GraftinGardeners are highly skilled at performing hedge trimming; we can trim any hedge with our top of the range hedge cutters to whatever shape you require. We've mastered the arts of hedge trimming and always get the desired end result according to your specifications.
Tree pollarding should only be performed by a fully trained tree surgeon, letting unskilled hands do so could serious damage your trees health and even kill them. We will tell you what type of pruning your tree requires and take a suitable course of action in relation to its species.
Where Quality & Customer Satisfaction Come First
See What Previous Clients Have to Say About Us
Excellent! Great service and fairly priced. Everyone involved was friendly and efficient from the office staff to the engineers. Highly recommended!
Very happy to recommend these guys. They cut our tree back 5 years ago and I had no hesitation digging out the invoice and calling them again.
Great professional team. They came to reduce a pear tree in the garden and did a very good job. They knew what to cut or not cut for the tree to recover from the trauma of the reduction.
From Felling to Pruning & Stump Removal, Our Colliers Wood​ Team Can Help!
Fill out the form below, or call 0208 123 7653 to get in touch with us.
Why Choose GraftinGardeners?