Tree Surgeons in Earlsfield
Expert tree services for residential and commercial purposes in Earlsfield and SW18
Need the help of a skilled Tree Surgeon in Earlsfield? GraftinGardeners have friendly tree surgeons in SW18, London and surrounding areas.
Tree Surgery Services and Quotes in Earlsfield
Call us today for a free quote: 0208 123 7653
Our Tree Services Include:
Tree Surgery in Earlsfield
GraftinGardeners are friendly, polite and professional tree surgeons operating in Earlsfield and surrounding areas. Our arborists provide quality tree surgery services at affordable prices. We have built a good client base from our outstanding work and get repeat custom all the time. If you require tree surgery in SW18, contact us now and we can give you a no hassle quotation.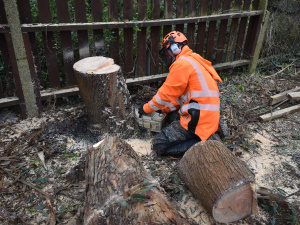 Need the hand of a skilled tree surgeon to remove dangerous or diseased trees? We can help! Our tree surgeons cover all aspects of tree work including the felling and dismantling of trees. We will fell dangerous trees and remove all the remaining waste. Perfect for clearing space for new garden features ect.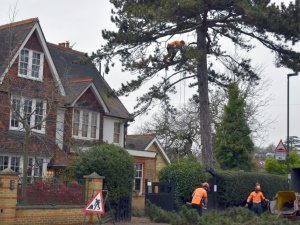 Tree pruning is an essential part of tree maintenance and necessary to keep trees from growing out of their boundaries. Pruning procedures should only be carried out by those who know how and what it takes. Our tree surgeons have the knowledge and expertise to perform all aspects of tree pruning while maintaining tree health and a good overall shape.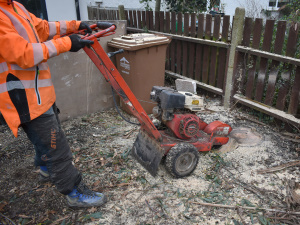 Large, stubborn or old tree stumps taking up to much space in your garden? We can remove any size stump with ease by using the latest stump grinding equipment and hand tools. All this will be done with minimal disruption so you can carry on your day as normal. Once were finished, we'll make the surface level and clear up any remaining mess.
Strom damaged trees can cause tremendous amounts of damage to your property and are a serious threat to your health and safety. If you have an emergency on your hands don't delay, call us now. We can work through the problem together to get things moving again fast and efficiently.
Ivy causes damage to brickwork, soffits and wood work as well as causing with a number of problems. Our ivy removal service is there to help you tackle overgrown ivy and remove it from its source. We can also prune ivy to your specific requests to ensure you get exactly what you want.
Can't decide which tree to plant? Let GraftinGardeners help! We have extensive knowledge on tree species and planting requirements and will guide you through the whole process. Don't do it yourself, it will be much easier with our help.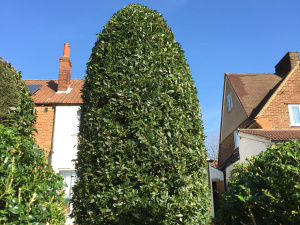 Hedge trimming is a form of art in the hands of a professional hedge trimmer. Don't let inexperienced hands butcher your most prized hedges. Get GraftinGardeners in! We will skilfully craft any hedge, any size to any shape you specify. Call us today to get your free hedge cutting quote.
Pollarding is a necessary form of pruning for certain tree species namely willow and poplar. This is just one of the ways to keep your trees under control. To determine if your tree needs pollarding we will first assess the tree in question and take appropriate action based on our assessment.
Where Quality & Customer Satisfaction Come First
See What Previous Clients Have to Say About Us
Excellent! Great service and fairly priced. Everyone involved was friendly and efficient from the office staff to the engineers. Highly recommended!
Very happy to recommend these guys. They cut our tree back 5 years ago and I had no hesitation digging out the invoice and calling them again.
Great professional team. They came to reduce a pear tree in the garden and did a very good job. They knew what to cut or not cut for the tree to recover from the trauma of the reduction.
From Felling to Pruning & Stump Removal, Our Earlsfield Team Can Help!
Fill out the form below, or call 0208 123 7653 to get in touch with us.
Why Choose GraftinGardeners?