Expert tree services for residential and commercial purposes in Kew, TW9 and TW10
Need the help of an expert Tree Surgeon in Kew? GraftinGardeners have professional tree surgeons in TW9, TW8, London and surrounding areas such as Kew Gardens. We have three teams of highly skilled arborists with extensive experience in performing tree surgery.
Tree Surgery Services and Quotes in Kew
Call us today for a free quote: 0208 123 7653
Our Tree Services Include:
GraftinGardeners are experts in the art of tree surgery and perform all kinds on a daily basis. Our tree surgeons operate in Kew and surrounding areas. We have all the right equipment and always use the right tools for the right job. If you require tree surgery in TW9 or TW8, pick up the phone and give us a call. Our team delivers a compelling tree surgery service and always aims to get the job completed on time.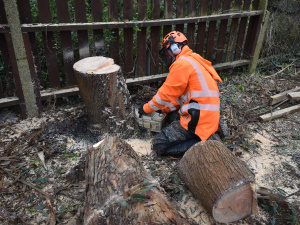 Do you need a tree removed from your garden? Graftingardeners can fell and remove any size tree from any location. If you have a dead or diseased tree it may be a hazard and may need removing. Our tree surgeons have been felling trees for a long time and always bring them down in accordance to UK health and safety standards. If you need a tree removal expert, contact us today for a quote.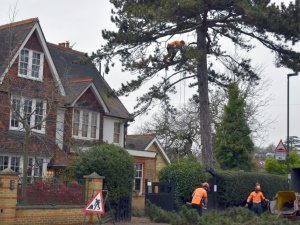 Tree pruning is necessary to keep trees healthy and balanced but there may be other reasons why you need a tree pruning service. Large limbs can overhang your neighbour's property and crowded trees may block lots of light into your garden. For whatever reason you need tree pruning, contact us first, our tree surgeons are experts and can prune, shape, trim and cut any trees.
Tree Stump Removal in Kew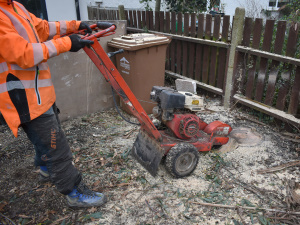 Want a tree stump removed from your garden? GraftinGardeners can remove any size tree stumps regardless of their location. We have a powerful stump grinder to smash out old tree stumps with ease. After works is complete we will fill the resulting hole and bring the surface back to level and clear the mess after.
Emergency Tree Work in Kew
If you have a tree emergency on your hands we can help. Our emergency tree service is there for you 24hrs a day, 365 days a year, to help you deal with fallen trees. Our tree surgeons will come in and remove any fallen trees so you can get things back to normal as quickly as possible.
Is ivy causing damage to your property? If so we can help! Our ivy management service is there to take control back over wandering ivy (shaping and pruning) and take the steps to remove it if necessary. Our ivy removal service will remove any ivy from the roots from any buildings or trees. We can do almost anything with ivy from pruning, shaping, cutting and more.
GraftinGardeners are experts when it comes to tree planting and cultivation. We can source the finest specimens and give you solid advice on planting locations and tree aftercare. If you want a tree planted in your garden, contact us today and we can arrange a free quotation.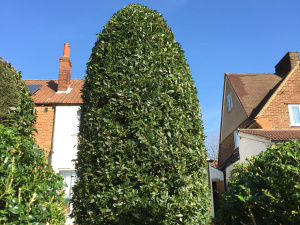 Our arborists can carry out hedge trimming with skill and pin point accuracy, we can trim, shape and cut and size hedge, from the smallest box hedge to the largest conifer. We can transform your hedges into whatever shape you like and won't leave until we get the desired results you want.
Tree pollarding is necessary and can be the only way to keep certain tree species under control, namely willow and poplar. Pollarding should never be carried out by inexperienced hands because of the severity of the operation, if you're unsure what pruning your trees need, contact us today and we can give you some friendly advice.
Where Quality & Customer Satisfaction Come First
See What Previous Clients Have to Say About Us
Excellent! Great service and fairly priced. Everyone involved was friendly and efficient from the office staff to the engineers. Highly recommended!
Very happy to recommend these guys. They cut our tree back 5 years ago and I had no hesitation digging out the invoice and calling them again.
Great professional team. They came to reduce a pear tree in the garden and did a very good job. They knew what to cut or not cut for the tree to recover from the trauma of the reduction.
From Felling to Pruning & Stump Removal, We Can Help!
Fill out the form below, or call 0208 123 7653 to get in touch with us.
Why Choose GraftinGardeners?