Expert tree services for residential and commercial purposes in Cheam, SM2 and SM3
Do you require a professional Tree Surgeon in Cheam? GraftinGardeners have expert tree surgeons in SM2, SM3, London and surrounding areas. We provide a wide array of tree services to residents of South and North Cheam.
Tree Surgery Services and Quotes in Cheam
Call us today for a free quote: 0208 123 7653
Our Tree Services Include:
GraftinGardeners are highly skilled tree surgeons operating in Cheam and surrounding areas. Our tree surgery services are among the best in London. We offer a comprehensive service and always aim for 100% customer satisfaction. If you require tree surgery in SM2 or SM3, get in touch today, we have two teams ready to carry out any tree works you require in North or South Cheam.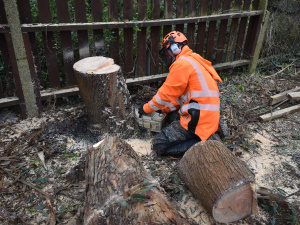 Our expert tree surgeons are highly skilled and can perform tree felling procedures with ease. We have felled hundreds of dangerous and awkwardly situated trees in London and Surrey. We always follow strict procedure and safety guidelines to British Standards, so you can be assured of a fast, efficient and safe tree felling service.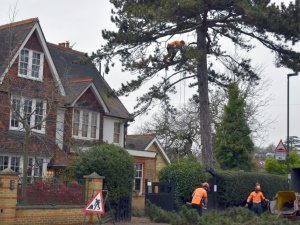 Tree pruning should only be carried out by professional tree surgeons. Our team has the knowledge and experience to prune trees safely whilst ensuring a good even balance is maintained. We always follow the guidelines set out in the BS 3998.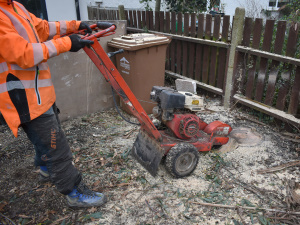 Want or need a tree stump removed? Why not let us remove it for you! We have the most up to date stump grinding equipment that will remove any size stump. After we remove your stump, we'll fill the hole in and make the ground level.
Strom damaged trees blocking your driveway? Don't worry, we can send a team round right away! Our tree surgeons are equipped to deal with all types of emergencies. Our emergency tree service is available 24 hours a day 365 days a year.
GraftinGardeners offers a comprehensive ivy management service. We can remove overgrown and problematic ivy from its source ensuring it doesn't return. If you don't want the ivy removed, we can also prune and shape ivy and other climbers to your specifications until we achieve the desired result.
If you have a large or new tree to plant GraftinGardeners can help you. Our arborists have a great understanding of tree cultivation and can assist you every step of the way. We only source the best possible specimens and can give you solid advice on tree aftercare.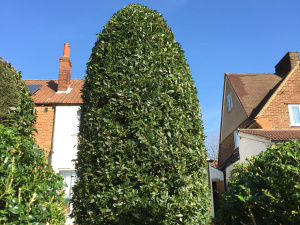 Hedge trimming takes a time to get right! If you haven't got the time, why not let our professional hedge trimmers come in and do it for you? Our arborists can trim, shape and cut all size hedges, from box hedges to large conifers. We have the best trimming equipment and can follow you exact instructions so you get the desired result you want.
Tree pollarding should only be carried out on certain tree species, mainly willow and poplar. Pollarding helps to keep these tree species healthy and under control. If you're not sure what type of pruning your trees need give us a call, our expert tree surgeons can tell you exactly what you need to know.
Where Quality & Customer Satisfaction Come First
See What Previous Clients Have to Say About Us
Excellent! Great service and fairly priced. Everyone involved was friendly and efficient from the office staff to the engineers. Highly recommended!
Very happy to recommend these guys. They cut our tree back 5 years ago and I had no hesitation digging out the invoice and calling them again.
Great professional team. They came to reduce a pear tree in the garden and did a very good job. They knew what to cut or not cut for the tree to recover from the trauma of the reduction.
From Felling to Pruning & Stump Removal, Our Cheam Team Can Help!
Fill out the form below, or call 0208 123 7653 to get in touch with us.
Why Choose GraftinGardeners?