Expert tree services for residential and commercial purposes in Esher and KT10
Need help finding a trusted Tree Surgeon in Esher? GraftinGardeners have professional tree surgeons in KT10, Surrey and surrounding areas.
Tree Surgery Services and Quotes in Esher
Call us today for a free quote: 0208 123 7653
Our Tree Services Include:
GraftinGardeners are skilful tree surgeons operating in Esher and surrounding areas. We provide a complete solution to all your tree surgery requirements. We have three teams of highly skilled workers and they include: tree surgeons, groundsmen and climbers. If you require tree surgery in KT10 or Surrey, get in touch with us today and we can book you in for a free no obligation quotation.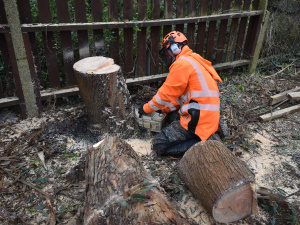 Tree felling is a skilful task and requires an in-depth understanding of tree surgery. Never let an in experienced worker with no insurance do it. Call us in today, our tree surgeons have felled trees in the most awkward spots and can safely bring down and remove any tree with efficiency. We always follow UK safety guidelines so you have full peace of mind when working with us. Call us now for a free tree removal quote.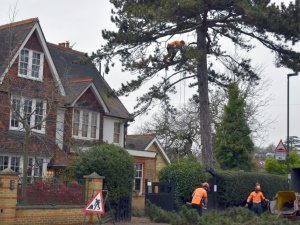 Large limbs and overcrowded branches can look unsightly, out of shape and may need pruning. Our tree surgeons have been pruning trees for over a decade and know exactly what it takes to get a nice overall shape whilst ensuring tree health. We can cut, trim, prune and shape any trees and we always follow the guidelines set out in the BS 3998.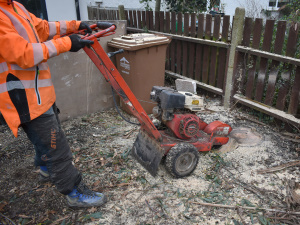 Graftingardeners have removed thousands of old tree stumps for clients over the last 7 years and the number keeps growing. Our tree surgeons are quick and can usually have that unwanted stump removed within the hour. We use the latest stump grinding equipment and always leave your property clean and tidy before and after works.
Do you need to clear a fallen tree fast? If so you came to the right page! We have removed hundreds of fallen trees from our clients property's and know what it takes to get even the biggest mess sorted out by tea. Our emergency tree service is there for you 24 hours a day, 365 days a year. We will come in remove any fallen trees, clear up the remaining mess and secure the area until it made safe again.
Is runaway ivy causing damage to your brickwork or trees? If so don't let get out of control, send us in to tidy things up. Our ivy management service is the best in London, we can cut, trim, prune and shape ivy or even remove it completely. Call us for a free ivy removal quote and get rid of that pesky ivy once and for all.
Need help plating a large tree? We have three teams of strong arms and can assist you in many ways with tree planting. We will source the best specimens and show you good plant locations as well as advice on tree aftercare.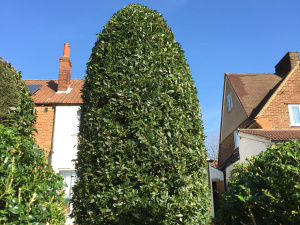 Need a professional hedge maintenance service? Look no further! Our skilful hedge trimmers can cut, trim, shape just about anything, whether you need your front garden hedges trimmed or your big prize hedges reshaped we can handle it. We have worked with the largest conifers so there no job too big for us, just give us a call to receive a free no obligation quote or just some friendly advice.
Tree pollarding is a major cut back of limbs, branches and foliage. It's used sparingly and only on certain species that will tolerate it. If you're not sure what type of pruning your trees need contact us today and we will point you in the right direction.
Where Quality & Customer Satisfaction Come First
See What Previous Clients Have to Say About Us
Excellent! Great service and fairly priced. Everyone involved was friendly and efficient from the office staff to the engineers. Highly recommended!
Very happy to recommend these guys. They cut our tree back 5 years ago and I had no hesitation digging out the invoice and calling them again.
Great professional team. They came to reduce a pear tree in the garden and did a very good job. They knew what to cut or not cut for the tree to recover from the trauma of the reduction.
From Felling to Pruning & Stump Removal, Our Esher Team Can Help!
Fill out the form below, or call 0208 123 7653 to get in touch with us.
Why Choose GraftinGardeners?