Expert tree services for residential and commercial purposes in Mitcham and CR4
Thinking about hiring a Tree Surgeon in Mitcham? GraftinGardeners reliable and trusted tree care professionals, with many years of experience working in arboriculture. We can supply you with whatever tree services you require and handle all work with precision and care. We have tree surgeons in CR4, London and surrounding areas. Call us today to arrange a tree specialist come to your property and inspect your trees and provide you with a free quote.
Tree Surgery Services and Quotes in Mitcham
Call us today for a free quote: 0208 123 7653
Our Tree Services Include:
GraftinGardeners are professional and affordable tree surgeons serving in Mitcham and surrounding areas. Established in 2008, our tree company is friendly, family run, providing all types of tree services for customers all over London. Each team member is fully qualified and trained, ensuring all works are carried out to the highest possible standards. If you require tree surgery in CR4, Call us today on the number listed above and we can send one of our tree specialists to insect your trees.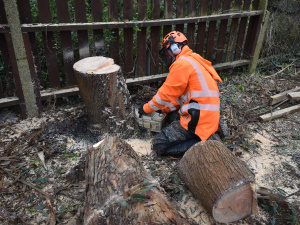 To fell a tree is to cut it down, either in sections or as a whole, all the way to the stump and sometimes further. It is a dangerous job, one for trained professionals that have experience in felling and removing trees. Our trees surgeons have felled 60ft tall trees and can take yours down no matter what size it is. We will remove any unwanted trees from your premises and always fell in a safe and well controlled manner, while abiding to UK safety laws. Contact us today and we can provide you with a free tree removal quote.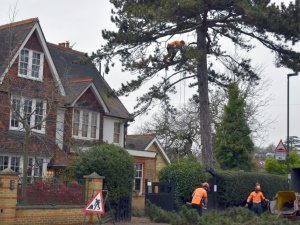 Are your trees blocking light or growing too far out of their boundaries? It may be the right time to prune them. If you or your next door neighbour needs your trees pruning we can help. Our company has helped thousands of customers reclaim light into their garden and can do the same for you. Our tree surgeons can trim and shape any size tree, taking time and care to get the job done correctly. Every cut made is based on age, size, condition, shape and character, while following the guidelines in the British Standards (BS 3998), leaving you with perfectly cut and shaped trees, every time.
Tree Stump Removal in Mitcham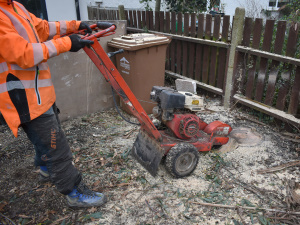 Want to get rid of that annoying tree stump in your garden? If you have an unwanted stump on your property and would like it removed you came to the right place. Our tree surgeons are fully equipped to carry out stump removals and could have yours out quicker than you can blink. Our tree surgeons use a stump grinder and hand tools to make light work of annoying stumps. We will come in, grind out the stump, fill the remaining hole, compact the ground to make it level and always clean the site after works are completed.
Emergency Tree Work in Mitcham
When a tree lands on your property, it can create all kinds of disasters such as damaging your home, damaging other trees, and even blocking paths and driveways. When this happens you need a tree surgeon to come and deal with the problem. Our company tackles fallen trees head on and has dealt with many cases in and around London. If you need a tree removed fast we can help. We will come in and secure the affected area, clear the fallen tree by cutting it up, then load it on to our trucks and won't leave until things are back to normal. Our emergency tree service is open 24 hours a day, 365 days a year, for all tree emergencies.
When ivy is left to grow on its own, it usually covers buildings and trees and often needs removing. If you need ivy removing from your buildings or trees we can help. Our arborists remove ivy from the roots, lay down herbicides and burn the old ivy, to stop it coming back. We also provide an ivy and climber maintenance service, to train your ivy away from structures it could damage. We can cut, trim and shape it, to suit you requirements.
Before running a tree company we was a gardening frim, so you can trust us to plant your trees safely, with our expertise in tree cultivation and management. Our arborists have planted many trees over the years and can safely plant or relocate existing trees (with unestablished roots). We will not only source you a great specimen, but plant it in the best location for its species and will guide you with tree aftercare also. Give your new tree the best start in life by calling GraftinGardeners today.
Hedge Trimming in Mitcham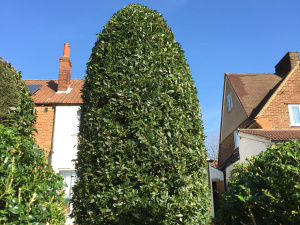 Cutting and trimming hedges is skilful work and requires a professional to get the best results. Our arborists have worked in the gardening industry for many years and can cut and trim any hedge. In fact, we style and shape all types of shrubs and can do it how you want it. From small hedges to large conifers, nothing is too big for our expert hedge trimmers. We guarantee to leave your hedges looking sharp and fresh.
Tree Pollarding in Mitcham
Tree pollarding is a great way to control tree growth, promote new growth and shoots and denser foliage. It is the cut back of all the upper branches and is commonly used on willow and poplar species. It can increase the lifespan of a tree and help to contain it to its boundaries. It should only be performed on trees that can handle the stress as it is a severe form of pruning. If you're not sure what type of pruning your trees require, get in touch with us today, we can send a tree surgeons to inspect your trees, free of charge.
Where Quality & Customer Satisfaction Come First
See What Previous Clients Have to Say About Us
Excellent! Great service and fairly priced. Everyone involved was friendly and efficient from the office staff to the engineers. Highly recommended!
Very happy to recommend these guys. They cut our tree back 5 years ago and I had no hesitation digging out the invoice and calling them again.
Great professional team. They came to reduce a pear tree in the garden and did a very good job. They knew what to cut or not cut for the tree to recover from the trauma of the reduction.
From Felling to Pruning & Stump Removal, We Can Help!
Fill out the form below, or call 0208 123 7653 to get in touch with us.
Why Choose GraftinGardeners?