Tree Surgeons in New Malden
Expert tree services for residential and commercial purposes in New Malden and KT3
Need the hand of an expert Tree Surgeon in New Malden? GraftinGardeners have professional tree surgeons in KT3, London and surrounding areas.
Tree Surgery Services and Quotes in New Malden
Call us today for a free quote: 0208 123 7653
Our Tree Services Include:
Tree Surgery in New Malden
GraftinGardeners are professional arborists operating in New Malden and surrounding areas. We provide a comprehensive tree surgery service with competitive prices. We have a good reputation based on our high standards of work and are continuing to please customer on a daily basis. If you require tree surgery in KT3, we'd be happy to help and are only a phone call away.
Tree Felling in New Malden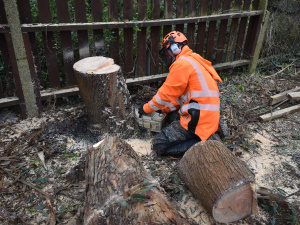 Is a dangerous or awkwardly situated tree bothering you? Do you need a tree removed for safety reasons? If so we can help. Our tree surgeons have felled many unwanted and annoyingly placed trees and can do the same for you. We always carry out felling in accordance to UK health and safety procedures, so you have full peace of mind; your property is in safe hands.
Tree Pruning in New Malden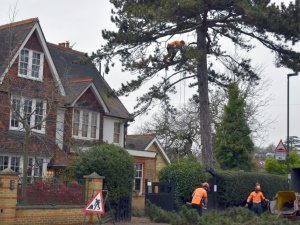 Tree pruning requires a good understanding of tree maintenance to be performed properly. Our tree surgeons are highly experienced and can carry out any type of pruning your trees require. We will prune your trees to BS 3998 standards, ensuring they get the attention they need and deserve.
Tree Stump Removal in New Malden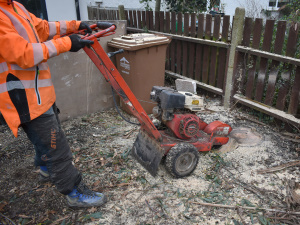 Sick and tired of tripping over that annoying tree stump? Want it remove fast? We can help. Our tree surgeons remove all types of tree stumps on a daily basis. We can remove your tree stump within the hour leaving you more time to care for your garden.
Emergency Tree Work in New Malden
Fallen trees causing havoc to your property? Don't panic we can help! Our team are on call 24 hours a day to deal with tree emergencies. Our emergency tree service can have your fallen trees cleared up in no time. We'll come and remove any fallen trees and secure the surrounding area until its safe again.
Ivy Removal in New Malden
Need problematic ivy remove fast? Our ivy removal service is there to help you deal with invasive climbers that are damaging your property. We will remove ivy from the source so it doesn't come back to soon. We also provide an ivy and climber management service; we can prune and shape ivy to whatever you require.
Tree Planting in New Malden
Want help planting a tree on your property? No problem! GraftinGardeners can plant any trees small or large. Our arborists have unrivalled knowledge on tree management and also offer expert advice on tree aftercare. Give us a call and we can start helping you today.
Hedge Trimming in New Malden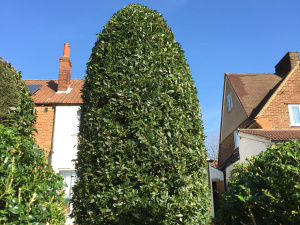 Haven't got the time to trim your hedges? I know! Let GraftinGardeners do it for you. Our team are experts at trimming hedges and can have your hedges looking plush in no time. We can trim just about anything! Our team will work alongside you so you can get that perfect hedge style you always wanted.
Tree Pollarding in New Malden
Pollarding is a risky operation and should only be performed by a trained and competent tree surgeon. Letting unskilled hands pollard your trees could have disastrous effects. Our experts can tell you exactly what type of pruning your trees require, so you don't accidently harm your trees.
Where Quality & Customer Satisfaction Come First
See What Previous Clients Have to Say About Us
Excellent! Great service and fairly priced. Everyone involved was friendly and efficient from the office staff to the engineers. Highly recommended!
Very happy to recommend these guys. They cut our tree back 5 years ago and I had no hesitation digging out the invoice and calling them again.
Great professional team. They came to reduce a pear tree in the garden and did a very good job. They knew what to cut or not cut for the tree to recover from the trauma of the reduction.
From Felling to Pruning & Stump Removal, We Can Help!
Fill out the form below, or call 0208 123 7653 to get in touch with us.
Why Choose GraftinGardeners?