Expert tree services for residential and commercial purposes in Norwood and SE25
Are you looking for a team of dedicated tree surgeons in the Norwood area? GraftinGardeners have decades of experience when it comes to tree surgery and have tree surgeons in SE25, Surrey and many surrounding areas. Our skilful teams consist of arborists and groundsmen and can perform all types of tree works. Carry on reading to find out more.
Tree Surgery Services and Quotes in Norwood
Call us today for a free quote: 0208 123 7653
Our Tree Services Include:
GraftinGardeners are London's most trusted and reliable tree care experts and have tree surgeons operating in Norwood and surrounding areas. If you need a tree specialist to inspect your trees, you came to the right place! Our teams deliver the finest quality of workmanship and can perform all tree works with precision and care. If you require tree surgery in SE25, get in touch with us today. We can come to your premises and give you an on-site quotation for all your requirements.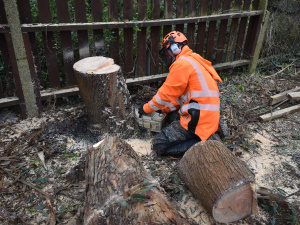 If you have a dead or damaged tree in your garden or property, it may need to be felled for safety reasons. It is not recommended to fell a tree, as it is a big job and usually takes a team to complete. Unless you have the correct knowledge of tree removal operations, it is best left to the professionals. Our tree surgeons can safely fell and take away any type of tree, regardless of shape, size or location and always fell in a safe and controlled manner. Your trees will either be removed in sections or where space allows, straight felled. All this is done by following UK safety felling laws.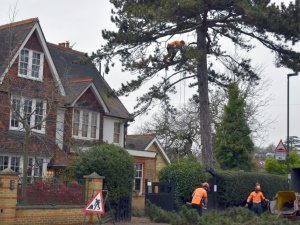 When considering pruning a tree, a full range of factors must be taken into consideration. Age, size, location and condition are just a few to note. Incorrect pruning can damage the long-term health of a tree and you should always consult an expert before carrying out any trimming. Our tree specialists follow strict guidelines in the BS3998 to ensure every cut is precise and final.
Tree Stump Removal in Norwood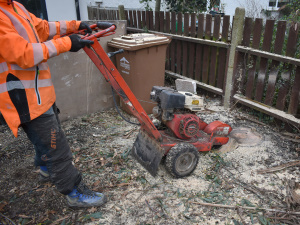 Would you like to remove that old tree stump from your premises? Our tree surgeons have removed tree stumps in the most awkward of places and could have yours taken out before lunch time! If we can't remove the stump with hand tools, then our stump grinder will. After it has been removed, the resulting hole can be filled and packed in, leaving you with a tidy and level surface. No stumps are too tough for our grinding equipment, we guarantee it!
Emergency Tree Work in Norwood
Damaged trees can fall without notice and can cause severe damage to your property, trees and its surroundings. Our arborists have dealt with hundreds of emergencies and can tackle them head on. We will come and assess the situation and safeguard the affected area. We will cut up and remove any fallen trees so you can get things back to normal. Our emergency tree service is there for you 24 hours a day, 365 days a year.
Are you having trouble with invasive climbers such as ivy? If so, let us sort it! We provide a professional ivy removal service and can remove ivy from buildings and trees. Whether you just want to trim and train your vines or completely remove it, we can help.
Do you need a tree planted or transplanted? GraftinGardeners are highly experienced when it comes to tree cultivation and management. We can source and plant your new tree or move and existing one. Even if you are having a tree felled, we can replace it. Call us today to find out more information.
Hedge Trimming in Norwood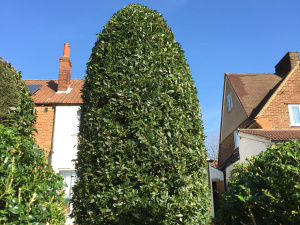 Hedge trimming is a skilful task and takes a trained eye to get that perfect cut and shape. Our professionals have been trimming hedges for over a decade and can craft and shape the most unruly hedges and shrubberies. Don't let untrained hands ruin your lovely bushes. Call GraftinGardeners today!
Tree Pollarding in Norwood
Pollarding a tree is necessary if your trees are near your home or on the street. All limbs and branches are cut very short to promote new growth and dense foliage. It is also a great way of preserving many species of trees. Call us today to find out if you require pollarding or just pruning.
Where Quality & Customer Satisfaction Come First
See What Previous Clients Have to Say About Us
Excellent! Great service and fairly priced. Everyone involved was friendly and efficient from the office staff to the engineers. Highly recommended!
Very happy to recommend these guys. They cut our tree back 5 years ago and I had no hesitation digging out the invoice and calling them again.
Great professional team. They came to reduce a pear tree in the garden and did a very good job. They knew what to cut or not cut for the tree to recover from the trauma of the reduction.
From Felling to Pruning & Stump Removal, We Can Help!
Fill out the form below, or call 0208 123 7653 to get in touch with us.
Why Choose GraftinGardeners?