Tree Surgeons in West London
Expert tree services for residential and commercial purposes all over West London
Looking for an expert Tree Surgeon in West London? GraftinGardeners are London's leading arboricultural specialists and have tree surgeons in West London and surrounding areas. Our company has grown from a small family company to the most comprehensive tree company in London and Surrey.
Tree Surgery Services and Quotes in West London
Call us today for a free quote: 0208 123 7653
Our Tree Services Include:
Tree Surgery in West London
GraftinGardeners has unrivalled experience in the arboriculture industry and has an elite team of tree surgeons in West London which consist of experienced and trained consultants, qualified arborists and highly motivated ground staff. There isn't a job we can handle with our 18-tonne grab lorry and master tree surgeon Richard Turner with over 25 years' experience. Give our friendly office staff a call now to arrange a free onsite quotation.
Tree Felling in West London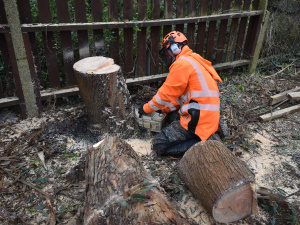 Are you concerned about a potentially dangerous tree on your property and in need of advice? Our expert tree surgeons are highly knowledgeable and can determine whether or not a tree requires felling. We have carried out hundreds of tree removal jobs in west London and can fell any dangerous or unwanted trees in the safest possible manner. Contact us today for a free tree felling quote.
Tree Pruning in West London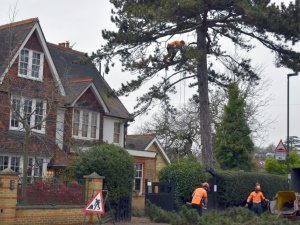 Are your trees growing out of their boundaries or are they causing obstructions to views or possibly sun light? There can be many reasons as to why you want your trees pruned but did you know that pruning is actually necessary to maintain a healthy balance. One of our consultants will assess your trees and work out a suitable method of pruning. All pruning works are carried out to British standards BS 3998, so call us today.
Tree Stump Removal in West London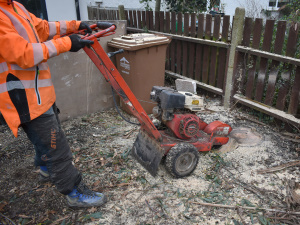 Having trouble removing a stubborn stump in your garden? Deep rooted tree stumps can be awfully tuff and hard to remove with conventional tools such as pickaxes, mattocks and spades. Our arborists will remove any problem stumps using our powerful stump grinding equipment. We will grind the stump out to the roots and backfill the resulting ditch with mulch, leaving you with a stump free and level surface.
Emergency Tree Work in West London
Trees can wreak havoc to all kinds of structures and property during storms which cause major disruptions on roads, block paths and driveways, as well as access for emergency and services. Our tree surgeons have dealt with many cases where a hasty removal of a fallen tree is vital. We have the manpower and expertise to quickly remove dangerous trees. Our emergency tree service operates 24 hours a day, 365 days a year for all tree emergencies.
Ivy Removal in West London
Ivy is a beautiful climbing vine which can add great detail and emphasis to your home. However, this magnificent plant is also known to cause issues with structures and external elements if it is not maintained correctly. Brickwork, mortar, wood and roof tiles are subject to damage if you left it get out of control. We can remove ivy from the roots or trim it to your specifications and provide you with an ivy maintenance service.
Tree Planting in West London
Are you planning on having a new tree installed in your garden and need the manpower to get it planted? Our arboricultural experts have decades of experience when it comes to tree planting and can safely plant any size tree in your garden. We have friendly staff with experts in tree management and cultivation and will help you select a suitable specimen, plating location, as well as providing advice on aftercare.
Hedge Trimming in West London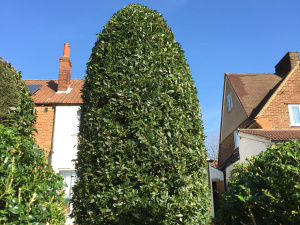 Is your garden looking tatty and in need of a resurrecting? Maybe our hedge trimming service is just what it needs! GraftinGardeners have been working on all types of shrubberies for more than a decade and can cut, trim and shape just about anything. From small hedge rows to the largest conifers, we can shape hedges to your specifications and bring your garden back to life. Call us today for a free hedge trimming quote.
Tree Pollarding in West London
Pollarding is the heaviest form of pruning and will only be necessary in certain situations where trees need to be contained to avoid them becoming a problem for pedestrians and utility services. Because this method of pruning is so aggressive only a few species of tree can handle it without killing the tree. We will assess your trees and always ensure the correct methods of pruning are carried out at all times.
Where Quality & Customer Satisfaction Come First
See What Previous Clients Have to Say About Us
Excellent! Great service and fairly priced. Everyone involved was friendly and efficient from the office staff to the engineers. Highly recommended!
Very happy to recommend these guys. They cut our tree back 5 years ago and I had no hesitation digging out the invoice and calling them again.
Great professional team. They came to reduce a pear tree in the garden and did a very good job. They knew what to cut or not cut for the tree to recover from the trauma of the reduction.
From Felling to Pruning & Stump Removal, We Can Help!
Fill out the form below, or call 0208 123 7653 to get in touch with us.
Why Choose GraftinGardeners?